Subreddit dedicated to the popular japanese hard rock band BAND-MAID. At 2022 r/place the community managed to secure one artwork on the canvas.
r/place 2022
History
r/BandMaid succesfully draws its artwork at the first expansion of the canvas on second day. The community joined with r/BABYMETAL to build the cover artwork of BAND-MAID album World Domination. When completed r/BABYMETAL built its own logo above this artwork.
Soon after, contacts were established with the local neighbors: r/Astroneer and Twitch streamer Jhay. Both agreed to an alliance.
After a series of attacks that rip apart the zone under the artwork, r/BandMaid decided to write name of the band on the empty zone below. Later, they will do the same on the right border, this time choosing the name "Cluppo", a musical side project of BAND-MAID member Miku Kobato. Additionally, it was added the word "Po", which is used by Miku when she speaks at public appearances.
Alliances
Subreddit community r/BABYMETAL
Twitch streamer Jhay
Subreddit community r/Astroneer
Artwork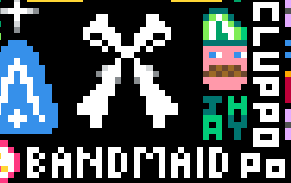 BAND-MAID World Domination logo
The artwork replicates the cover artwork of BAND-MAID album World Domination. Design by u/askyle.